Learn with PEAK Grantmaking
Courage in Practice: 5 Principles for Peak Grantmaking
NEW RELEASE! Use practices and policies to help narrow the power gap between
grantmakers and grantseekers, and value equally the resources each brings to their
partnerships and use practices and policies to help narrow the power gap. LEARN MORE.
Created by and for our members, these five Principles are our call to action to transform
the practice of philanthropy into the practice of principled grantmaking.
It's time to move from conversation to action, and you can help lead the way.
Explore the five Principles, and learn about the many ways that PEAK Grantmaking
will support you every step of the way to put these principles into practice. LEARN MORE.
GM101 Online: Introduction to Grants Management
| | | |
| --- | --- | --- |
| The self-paced online version of our popular GM101 workshop! Learn the basics of your role as a grants manager and the grantmaking cycle, as well as the philanthropic context in which grantmaking takes place. Test your knowledge, hear from subject matter experts, and access job aids and other resources to support your grantmaking work. LEARN MORE. | | |
Grants Management Professional Competency Model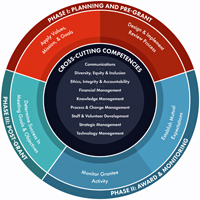 PEAK Grantmaking's Grants Management Professional Competency Model defines the professional knowledge, skills, and abilities expected of grants management professionals, regardless of their area of specialization, the size of their organization, or their role within the field.
View Competency Model information and download the PDF
Job responsibilities, titles, and structures for grants management professionals vary widely between organizations. Therefore, this competency model includes all the competencies that distinguish high-performing grants management professionals and empowers the user to decide which are relevant to them.
The competency model can be used to define your role and create your professional development plan, and serve as a framework for talent recruitment and hiring practices.
The Grants Management Professional Competency Model is a living and evolving resource, and will be updated as needed to reflect changes in the field.
Learning Advisor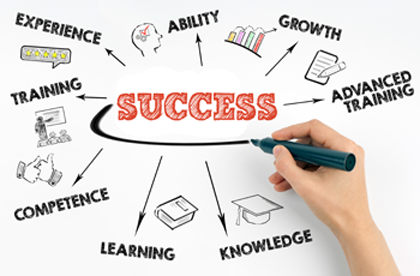 Identify and Address Skills Gaps. Optimize Your Performance.
Exclusive benefit for Organization Members - Start now!
Based on the Grants Management Professional Competency Model, Learning Advisor enables you to create an actionable plan that identifies skills gaps and recommendation on how to close them. Skills and knowledge are assessed on 5 levels of skill: Learning, Basic, Applied, Skilled, and Expert. Take the assessment to see where you are, follow the learning plan to get to the next level.
Learning Advisor for Teams
PEAK Grantmaking offers Learning Advisor for Teams--a professional development tool that empowers your team members to take charge of their professional development at their own pace. Not only is this the perfect tool for your team, it's a great tool for you.
Here are the top 5 reasons you should engage with Learning Advisor:
Learning Advisor gives your team members the right development opportunities and experiences they need to grow 
It makes development and career planning a part of your regular 1:1 conversations 
You will build team capability by leveraging high performers 
Learning Advisor coaches each person more effectively…without guessing 
It drives engaged employees who can help meet your objectives 
Contact Carolyn Sosnowski, e-learning and content manager, to get started with Learning Advisor for Teams.
Popular Learning Resources
Here are the top 5 learning products from our catalog.