How to Streamline Your Award and Electronic Payment Processes in Times of Crisis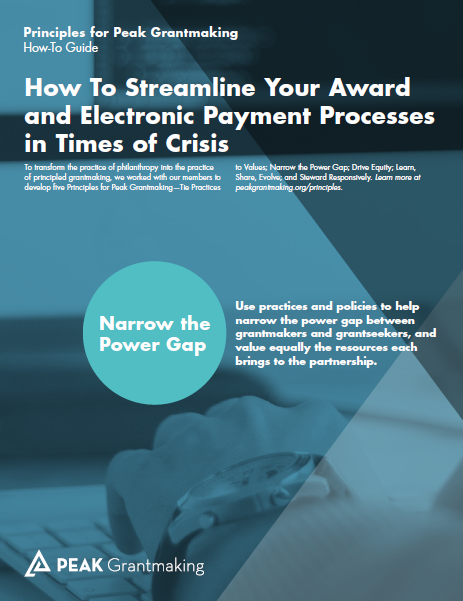 This guide is designed to help you review your award and payments process and consider changes that will create a more efficient – and less paper- and document-dependent – system for funding in a time of crisis.
This information was compiled from the guidance and advice shared by the PEAK Grantmaking community in our online discussion forum, CONNECT, in response to the COVID-19 pandemic crisis.
Principles for Peak Grantmaking Series: Narrow the Power Gap
Publication date: June 2020
Exclusive to Organization Members and Consultant Members.

Not a member? To gain access to select resources, our CONNECT community, and more, start with Individual Membership, complimentary to all grantmaking professionals. Join today >
Grants Management Professional Competency Model
Cross-Cutting Competencies
Financial Management: Implement financial policies and controls to ensure effective and efficient deployment of financial resources for grantmaking.
Process and Change Management: Plan and monitor processes efficiently and effectively and manage change as needed to contribute to grantmaker's strategic goals and grantee's success.
Technology Management: Apply technology solutions to grantmaking to support grantmaker applicant, and grantee success.
Lifecycle of a Grant Competencies
Planning and Pre-Grant: Apply the grantmaker values, mission, and goals to ensure alignment of application process and guidelines.
Award and Monitoring: Establish mutual expectations between the grantmaker and grantee to support success.
Key:

Complete

Next

Failed

Available

Locked