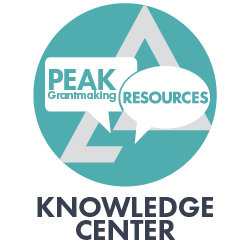 Members Only Access: Discover more than 300 curated resources that can answer your questions and help you delve deeper into topics you want to learn more about. You'll find articles, reports, conference slides, sample documents and templates, plus webinar recordings and learning modules. There's a wealth of grants management information waiting to be explored.
Log in and use the search box at the right to search by keyword or to browse by category or format. Registration is required to access resources, but is automatic for most items.
Need help finding what you're looking for? Email us! Not a Member? Join today!
Conference Presentation Slides and Handouts
125 Results
GDPR and Foundations

Trends around the globe are towards more rigorous data privacy regulation. The EU (European Union) General Data Protection Regulation (GDPR) was adopted by the EU Parliament in April 2016 and went into effect May 25, 2018. GDPR, a legal framework that sets guidelines for the collection and processing of personal information of individuals within the EU, is the most important change in data privacy regulation in two decades. Now, there is a great deal of uncertainty about how this might impact foundations. Slides from the June 2018 workshop hosted by the New York Regional Chapter.

Public Speaking: Leading and Facilitating Meetings

Presenter Melissa Sines, PEAK Grantmaking's effective practices program manager, addresses common public speaking concerns and anxieties, and offers strategies that will help you become a more confident speaker. She also shares tips and tricks for effective, productive meetings. Slides from the June 2018 New England Regional Chapter presentation.
Publications & Reports
92 Results
How Youth-Led Grantmaking Benefits Young People, Their Communities, and the Philanthropic Sector

More foundations, philanthropy-serving organizations, schools, and neighborhood institutions have come to see that young people themselves are well positioned to make informed decisions about community needs both now and in the future that belongs to them. As a result, the practice of youth philanthropy has emerged in hundreds of communities and organizations across the United States. Publication date: August 2018

The State of Global Giving by U.S. Foundations, 2011-2015

This is the latest report in a decades-long collaboration between Foundation Center and The Council on Foundations and aims to help funders and civil society organizations better navigate the giving landscape as they work to effect change around the world. The analysis reveals that global giving by U.S. foundations increased by 29% from 2011 to 2015, reaching an all-time high of $9.3 billion in 2015. In addition to a detailed analysis of trends by issue area, geographic region, population group, and donor strategy, this analysis also relates these trends to key events and developments, including the adoption of the Sustainable Development Goals, the spread of Ebola in West Africa, and the increasing legal restrictions faced by civil society in countries around the world. Publication date: August 2018

Centering Grantees in Advocacy Grantmaking

There is a growing movement in institutional philanthropy toward grantee inclusion, which encourages more collaboration between foundations and their grantees. Grantee inclusion is becoming especially relevant because more foundations are incorporating public policy advocacy into their philanthropy. When foundations involve their grantees' community input, they can bring more legitimacy to their role in policy debates. Publication date: August 2018
Articles
Blog posts and articles from other publications, including PEAK Insight Journal.
320 Results
THE ELEPHANT IN THE ROOM: WHAT'S MISSING FROM THE RECENT PUBLIC CONVERSATION ABOUT DAFS

The increasing popularity of DAFs is due in large part to the tax breaks they give donors relative to other forms of giving, and the benefits of those breaks only multiply the higher you go up the income wealth ladder. But, ultimately, the advantages that distinguish DAFs and philanthropic giving in general rest on wider privileges built into the tax system as a whole. Publication date: September 2018

PHILANTHROPIC RISK: IT'S PERSONAL

Foundations big and small couch their strategies around innovation – often complemented by statements about their willingness to take risks in pursuit of those strategies. However, given funders' current interest in evidence-based work and easily quantifiable results, most haven't demonstrated an actual willingness or ability to embrace risk. There is one important philanthropic risk that never gets talked about: a risk that likely is the most powerful and overriding influence on foundation actions. It's a risk that is not programmatic, legal or compliance-focused. It isn't even particularly about the reputation of the funder. It's the risk of the personal. Publication date: August 23, 2018

Philanthropy and the Closing Civic Space: How Donors Are Supporting Organizations Under Threat

Over the past 10 years, cross-border grantmaking has become more challenging, and the day-to-day work of civil society organizations in many parts of the world has become increasingly difficult. Organizations have reported that they were running into administrative hurdles created by authorities and that basic laws on (non-government organization) NGO registration or taxation were being used to restrict or shut down their work. At the same time, donors were finding that bank transfers were held up, questioned, or even refused. As they compared notes and pieced these stories together, donors recognized a trend that is now often referred to as the closing space for civil society. Publication date: June 18, 2018
Sample Documents and Templates
This is a collection of sample documents shared by your colleagues. Be sure to check the Connect library for new additions.
35 Results
Power Moves: Your Essential Philanthropy Assessment Guide for Equity and Justice

A self-assessment toolkit to determine how well you are building, sharing and wielding power and identify ways to transform your programs and operations for lasting, equitable impact. It includes ready-to-use guides, insightful anecdotes and comprehensive resources to help you on your power journey towards high-impact giving. From the National Committee for Responsive Philanthropy. Publication date: May 2018

A Practical Guide to Outcome-Focused Philanthropy

"A Practical Guide to Outcome-Focused Philanthropy" is a roadmap for Hewlett Foundation staff as they work across the four stages of a strategy's lifecycle: origination; implementation; refresh, and exit. The guidebook includes a set of worksheets that provide an at-a-glance overview of what staff need to think about and do at each stage. These worksheets also are available as a standalone document.

Unpacking the LOI

A blog post by Jessica Bearman on the value of letters of inquiry. Publication date: April 27, 2015