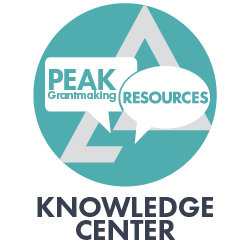 Members Only Access: Discover more than 300 curated resources that can answer your questions and help you delve deeper into topics you want to learn more about. You'll find articles, reports, conference slides, sample documents and templates, plus webinar recordings and learning modules. There's a wealth of grants management information waiting to be explored.
Log in and use the search box at the right to search by keyword or to browse by category or format. Registration is required to access resources, but is automatic for most items.
Need help finding what you're looking for? Email us! Not a Member? Join today!
Presentation Slides and Handouts
Publications & Reports
116 Results
Cross-Border Giving: A Legal and Practical Guide

Cross-Border Giving features 17 authors offering insight on legal, ethical, and operational issues of international giving. Topics covered include: ethical grantmaking, the closing space for civil society, equivalency determination & expenditure responsibility, preparing for an audit, and much more. Publication date: 2018

Courage in Practice: The Principles for Peak Grantmaking

Many in our sector are talking about big ideas such as equity and inclusion, narrowing the power gap in our sector, being authentically engaged in our communities, listening and learning from our partners, and living our values in our practice. Publication date: April 2019

Successful Structures: Rethinking the Role of Grants Management -- Case Studies

In our exploration of successful structures, we studied organizations of different sizes, types, missions, and cultures. We identified a set of common practices supported by certain organizational characteristics and behaviors that, over time, are building successful structures. These characteristics and behaviors boil down to five essential guidelines for realizing a successful grantmaking structure designed to integrate the "how" of grantmaking with foundation strategy and impact. Publication date: 2017
Articles
Blog posts and articles from other publications, including PEAK Insight Journal.
351 Results
Make Your Values Mean Something

You can learn some important lessons from the few companies that have adopted meaningful corporate values. Whether their values stemmed directly from the vision and character of their founders or were developed later through formal programs, these companies all followed four basic imperatives in creating and implementing their values. An article from Harvard Business Review. Publication date: July 2002
Sample Documents and Templates
This is a collection of sample documents shared by your colleagues. Be sure to check the Connect library for new additions.
35 Results
Power Moves: Your Essential Philanthropy Assessment Guide for Equity and Justice

A self-assessment toolkit to determine how well you are building, sharing and wielding power and identify ways to transform your programs and operations for lasting, equitable impact. It includes ready-to-use guides, insightful anecdotes and comprehensive resources to help you on your power journey towards high-impact giving. From the National Committee for Responsive Philanthropy. Publication date: May 2018

A Practical Guide to Outcome-Focused Philanthropy

"A Practical Guide to Outcome-Focused Philanthropy" is a roadmap for Hewlett Foundation staff as they work across the four stages of a strategy's lifecycle: origination; implementation; refresh, and exit. The guidebook includes a set of worksheets that provide an at-a-glance overview of what staff need to think about and do at each stage. These worksheets also are available as a standalone document.

Unpacking the LOI

A blog post by Jessica Bearman on the value of letters of inquiry. Publication date: April 27, 2015