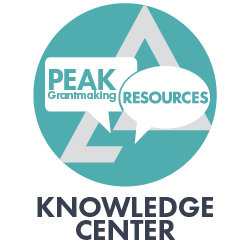 Members Only Access: Discover more than 900 curated resources that can answer your questions and help you delve deeper into topics you want to learn more about. You'll find articles, reports, conference slides, sample documents and templates, plus webinar recordings and learning modules. There's a wealth of grants management information waiting to be explored.
Log in and use the search box at the right to search by keyword, or browse by category or format. Registration is required to access resources, but is automatic for most items. Be sure your pop-up blocker is turned off to view individual items.
Need help finding what you're looking for? Email us! Not a Member? Join today!
Articles
Blog posts and articles from other publications, including PEAK Insight Journal.
360 Results
Five Foundations Advance Ways to End the Starvation Cycle

Chronic underfunding of nonprofits has been a perennial topic of discussion for years. Five major foundations have agreed to do more to combat the "starvation cycle" that undercuts the effectiveness of their grantees. They have agreed to test and refine potential solutions, and to reach out to other funders to share what they have learned. Publication date: November 4, 2019

How Philanthropy Can Help Us Be Better as a Nation

Rick Williams, Sobrato Family Foundation's chief executive, reflects on his 20 years in philanthropy and suggests 10 priority action items for the sector to help America reach its full potential. Publication date: October 7, 2019
Sample Documents and Templates
This is a collection of sample documents shared by your colleagues. Be sure to check the Connect library for new additions.
36 Results
GM101 Introduction to Grants Management

This GM101 online course provides a basic overview of the grants management role, and the scope of the grantmaking process, in funder organizations. The course is designed for professionals who are new to grants management. This includes professionals with backgrounds in accounting, technology systems, program management, and other relevant areas. Grants management is often the department where program, finance, communications, application, approval, and administrative functions overlap. Grants managers perform a diverse set of tasks and maintain a wide range of professional relationships to ensure high-quality grants administration across programs. This course builds a basic understanding of the grants manager's role, the grantmaking process, and the philanthropic context in which grantmaking takes place.

Power Moves: Your Essential Philanthropy Assessment Guide for Equity and Justice

A self-assessment toolkit to determine how well you are building, sharing and wielding power and identify ways to transform your programs and operations for lasting, equitable impact. It includes ready-to-use guides, insightful anecdotes and comprehensive resources to help you on your power journey towards high-impact giving. From the National Committee for Responsive Philanthropy. Publication date: May 2018

A Practical Guide to Outcome-Focused Philanthropy

"A Practical Guide to Outcome-Focused Philanthropy" is a roadmap for Hewlett Foundation staff as they work across the four stages of a strategy's lifecycle: origination; implementation; refresh, and exit. The guidebook includes a set of worksheets that provide an at-a-glance overview of what staff need to think about and do at each stage. These worksheets also are available as a standalone document.
Presentation Slides and Handouts