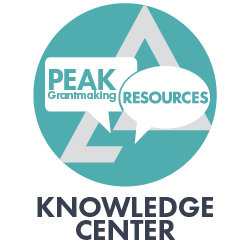 Members Only Access: Discover more than 300 curated resources that can answer your questions and help you delve deeper into topics you want to learn more about. You'll find articles, reports, conference slides, sample documents and templates, plus webinar recordings and learning modules. There's a wealth of grants management information waiting to be explored.
Log in and use the search box at the right to search by keyword or to browse by category or format. Registration is required to access resources, but is automatic for most items.
Need help finding what you're looking for? Email us! Not a Member? Join today!
Conference Presentation Slides and Handouts
125 Results
GDPR and Foundations

Trends around the globe are towards more rigorous data privacy regulation. The EU (European Union) General Data Protection Regulation (GDPR) was adopted by the EU Parliament in April 2016 and went into effect May 25, 2018. GDPR, a legal framework that sets guidelines for the collection and processing of personal information of individuals within the EU, is the most important change in data privacy regulation in two decades. Now, there is a great deal of uncertainty about how this might impact foundations. Slides from the June 2018 workshop hosted by the New York Regional Chapter.

Public Speaking: Leading and Facilitating Meetings

Presenter Melissa Sines, PEAK Grantmaking's effective practices program manager, addresses common public speaking concerns and anxieties, and offers strategies that will help you become a more confident speaker. She also shares tips and tricks for effective, productive meetings. Slides from the June 2018 New England Regional Chapter presentation.
Publications & Reports
85 Results
Advancing Racial Equity in Philanthropy: A Scan of Philanthropy-Serving Organizations

United Philanthropy Forum conducted a scan of regional and national philanthropy-serving organizations (PSOs) in February through May 2018 to get a more comprehensive understanding of PSOs' current work and future needs to advance racial equity in philanthropy. The scan involved both a survey that asked about PSOs' current work, future needs and greatest challenges in advancing racial equity, plus in-depth interviews to discuss what it takes to do this work effectively and to identify their key challenges, barriers and opportunities for addressing systemic inequities. Publication date: July 2018

Cross-Border Philanthropy and Counterterrorism Regulations: Guidance for U.S. Grantmakers

This report published by GuideStar examines the relevant regulations and U.S. agencies responsible for enforcing them; discusses the consequences of noncompliance; offers recommendations on how best to reduce the risks of diverting funds; and identifies key resources to help grantmakers stay on the right side of anti-terrorism laws. Publication date: May 2018

CRM Integration for Nonprofits

CRM integration is the process of connecting your systems so they can pass data back and forth, giving your staff a more holistic view of your organization's interactions that can improve fundraising, outreach, program delivery, and reporting. Review this publication to learn why you should integrate, what systems you should include, and how to plan for a smooth, successful integration project. Publication date: June 2018
Articles
Blog posts and articles from other publications, including PEAK Insight Journal.
Sample Documents and Templates
This is a collection of sample documents shared by your colleagues. Be sure to check the Connect library for new additions.
34 Results
A Practical Guide to Outcome-Focused Philanthropy

"A Practical Guide to Outcome-Focused Philanthropy" is a roadmap for Hewlett Foundation staff as they work across the four stages of a strategy's lifecycle: origination; implementation; refresh, and exit. The guidebook includes a set of worksheets that provide an at-a-glance overview of what staff need to think about and do at each stage. These worksheets also are available as a standalone document.

Unpacking the LOI

A blog post by Jessica Bearman on the value of letters of inquiry. Publication date: April 27, 2015

Devil Is in the Data Details

The presentation features tools and approaches to quality control at three different foundations. Original air date: December 2015