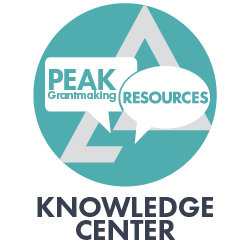 Members Only Access: Discover more than 300 curated resources that can answer your questions and help you delve deeper into topics you want to learn more about. You'll find articles, reports, conference slides, sample documents and templates, plus webinar recordings and learning modules. There's a wealth of grants management information waiting to be explored.
Log in and use the search box at the right to search by keyword or to browse by category or format. Registration is required to access resources, but is automatic for most items.
Need help finding what you're looking for? Email us! Not a Member? Join today!
Publications & Reports
98 Results
Insight, Impact, and Equity: Collecting Demographic Data

​For philanthropy to advance equity in all communities, especially low-income communities and communities of color, it needs to be able to understand the demographics of the organizations being funded (and declined), the people being served, and the communities impacted. That data should be used to assess practices and drive decision making. PEAK Grantmaking is working to better understand and build the capacity of grantmakers for collecting and utilizing demographic data as part of their grantmaking. Publication date: July 2018

Strengthening Grantees: Foundation and Nonprofit Perspectives

The report provides a comprehensive examination of foundations' efforts to strengthen grantee organizations and leaders. The data reveals that foundations are not as in touch with nonprofits' needs as they think they are, and that both foundations and nonprofits alike have a role to play in closing the gap between the support nonprofits need and the support foundations provide. Publication date: October 2018

Great Funder–Nonprofit Relationships Toolkit

This toolkit, from Exponent Philanthropy, is designed to help funders recognize the aspects of great relationships with your nonprofit partners, assess competencies, and consider ways to improve how to work with one another. Publication date: October 2018
Articles
Blog posts and articles from other publications, including PEAK Insight Journal.
334 Results
Diversifying Perspectives and Sharing Power at a Family Foundation

Bringing non-family members, people with diverse perspectives, and professional advisors into the decision-making fold can help family foundations move past family dynamics, and take greater risks and bolder action toward their missions. Publication date: October 22, 2018

Intersectionality and Demographic Data in Philanthropy

If philanthropy is serious about its mission, it has to get serious about intersectionality. We need data to unpack the layers of oppression and systemic inequities that keep us from making substantial progress. Yet, our data collection efforts haven't even begun to contemplate this complex issue. Publication date: October 12, 2018
Presentation Slides and Handouts
127 Results
Planning Your Path for the Future

This meeting of the PEAK Grantmaking New York Chapter, EPIP New York, and Philanthropy New York focused on  professional development, and included two highly-interactive sessions, focused on reflecting on your current role in your organization and strategizing how best to advocate for yourself at work, while networking with other grants management colleagues from the area.  Presentation date: November 1, 2018

GDPR and Foundations

Trends around the globe are towards more rigorous data privacy regulation. The EU (European Union) General Data Protection Regulation (GDPR) was adopted by the EU Parliament in April 2016 and went into effect May 25, 2018. GDPR, a legal framework that sets guidelines for the collection and processing of personal information of individuals within the EU, is the most important change in data privacy regulation in two decades. Now, there is a great deal of uncertainty about how this might impact foundations. Slides from the June 2018 workshop hosted by the New York Regional Chapter.
Sample Documents and Templates
This is a collection of sample documents shared by your colleagues. Be sure to check the Connect library for new additions.
35 Results
Power Moves: Your Essential Philanthropy Assessment Guide for Equity and Justice

A self-assessment toolkit to determine how well you are building, sharing and wielding power and identify ways to transform your programs and operations for lasting, equitable impact. It includes ready-to-use guides, insightful anecdotes and comprehensive resources to help you on your power journey towards high-impact giving. From the National Committee for Responsive Philanthropy. Publication date: May 2018

A Practical Guide to Outcome-Focused Philanthropy

"A Practical Guide to Outcome-Focused Philanthropy" is a roadmap for Hewlett Foundation staff as they work across the four stages of a strategy's lifecycle: origination; implementation; refresh, and exit. The guidebook includes a set of worksheets that provide an at-a-glance overview of what staff need to think about and do at each stage. These worksheets also are available as a standalone document.

Unpacking the LOI

A blog post by Jessica Bearman on the value of letters of inquiry. Publication date: April 27, 2015