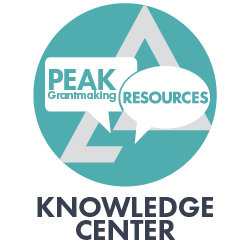 Members Only Access: Discover more than 300 curated resources that can answer your questions and help you delve deeper into topics you want to learn more about. You'll find articles, reports, conference slides, sample documents and templates, plus webinar recordings and learning modules. There's a wealth of grants management information waiting to be explored.
Log in and use the search box at the right to search by keyword or to browse by category or format. Registration is required to access resources, but is automatic for most items.
Need help finding what you're looking for? Email us! Not a Member? Join today!
Publications & Reports
103 Results
Sharing Data Responsibly – A Conversation Guide for Funders

Human rights funders collect a lot of data about their grantees – as well as the people that their grantees help. Sharing this data openly can help funders be transparent about their activities and highlight the impact of their grantees' work. However, it can also increase risks to human rights work if data isn't collected and managed responsibly. How can funders be transparent about the work they support, while making sure that they aren't harming grantees or others? This guide is based on research conducted by Ariadne and The Engine Room. Publication date: October 2018

Understanding & Sharing What Works: The State of Foundation Practice

​Assessing the performance of a foundation is notoriously challenging, but it is crucial to learning and improvement. How well do foundation leaders believe they understand what is and isn't working in their foundation's programmatic efforts? How are they building that understanding? What information are they choosing to share with others? CEP surveyed and conducted in-depth interviews with private and community foundation leaders regarding what they know about what is and isn't working in their foundations' efforts to achieve their goals. Publication date: November 2018
Articles
Blog posts and articles from other publications, including PEAK Insight Journal.
347 Results
10 Things Progressive Funders Must Learn from Conservative Ones, or We Are All Screwed

Conservative funders focus on the big picture, act quickly, do not micromanage, provide significant general operating funds, fund for twenty or thirty years, support leaders and movements, engage in policy and politics, and treat grantees as equal partners. Progressive funders—with a few exceptions—intellectualize, are severely risk-averse, focus narrowly, fund isolated strategies and programs, avoid politics, and treat grantees like parasites and freeloaders. Publication date: December 10, 2018
Presentation Slides and Handouts
128 Results
PEAK Midwest Fall Regional Meeting

​Looking for ideas to improve your grantmaking practices and time to network with other grants management professionals? Presenters from the MacArthur Foundation, Grand Victoria Foundation, PEAK Grantmaking, and the Midwest Regional Chapter team shared information on a wide-range of hot topics in philanthropy including practices, racial equity, and going paperless.​ Presentation date: October 19, 2018

Planning Your Path for the Future

This meeting of the PEAK Grantmaking New York Chapter, EPIP New York, and Philanthropy New York focused on  professional development, and included two highly-interactive sessions, focused on reflecting on your current role in your organization and strategizing how best to advocate for yourself at work, while networking with other grants management colleagues from the area.  Presentation date: November 1, 2018
Sample Documents and Templates
This is a collection of sample documents shared by your colleagues. Be sure to check the Connect library for new additions.
35 Results
Power Moves: Your Essential Philanthropy Assessment Guide for Equity and Justice

A self-assessment toolkit to determine how well you are building, sharing and wielding power and identify ways to transform your programs and operations for lasting, equitable impact. It includes ready-to-use guides, insightful anecdotes and comprehensive resources to help you on your power journey towards high-impact giving. From the National Committee for Responsive Philanthropy. Publication date: May 2018

A Practical Guide to Outcome-Focused Philanthropy

"A Practical Guide to Outcome-Focused Philanthropy" is a roadmap for Hewlett Foundation staff as they work across the four stages of a strategy's lifecycle: origination; implementation; refresh, and exit. The guidebook includes a set of worksheets that provide an at-a-glance overview of what staff need to think about and do at each stage. These worksheets also are available as a standalone document.

Unpacking the LOI

A blog post by Jessica Bearman on the value of letters of inquiry. Publication date: April 27, 2015